Nick Diaz dropped a couple of bombshells on Monday night, revealing he wants to return to the UFC Octagon in 2020 – and has set his sights on Jorge Masvidal.
Masvidal beat Diaz's brother, Nate Diaz, for the "BMF" belt at UFC 244 earlier this month. Nick walked his brother out at Madison Square Garden, but has not competed since January 2015.
Nick Diaz's manager, Kevin Mubenga, told ESPN's Ariel Helwani they want to fight Masvidal in the spring at AT&T Stadium, home of the Dallas Cowboys, in Arlington, Texas.
"You know, it's on you Dana," Diaz told Helwani, in reference to UFC president Dana White. "It's on you, UFC. … that's on them. It's in your hands now. Cowboy Stadium."
Masvidal beat Nate Diaz via a controversial third-round TKO, after the cageside doctor ruled the Stockton fighter should no longer continue, given two nasty cuts around his eye.
"I'll fight anybody," the 36-year-old Nick Diaz also said in an interview on Helwani's MMA Show. "This guy [Masvidal] can do anything he wants to do right now to make the most money possible.SUBSCRIBE TO RACING NEWSGet updates direct to your inboxSUBMITBy registering, you agree to our T&C and Privacy Policy
"I'm like, you know, do the damn thing … I'm doing my part, you do yours. They can do their part and then the show could go on."
White has said he was not interested in an immediate rematch between Nate Diaz and Masvidal, whom he thinks will be "moving on" with a welterweight title shot likely to be his next fight.
That prompted Nate Diaz to hint at another lengthy lay-off from MMA – he wrote "peace out fight game" in a social media post last week, having only just returned from three years off in August.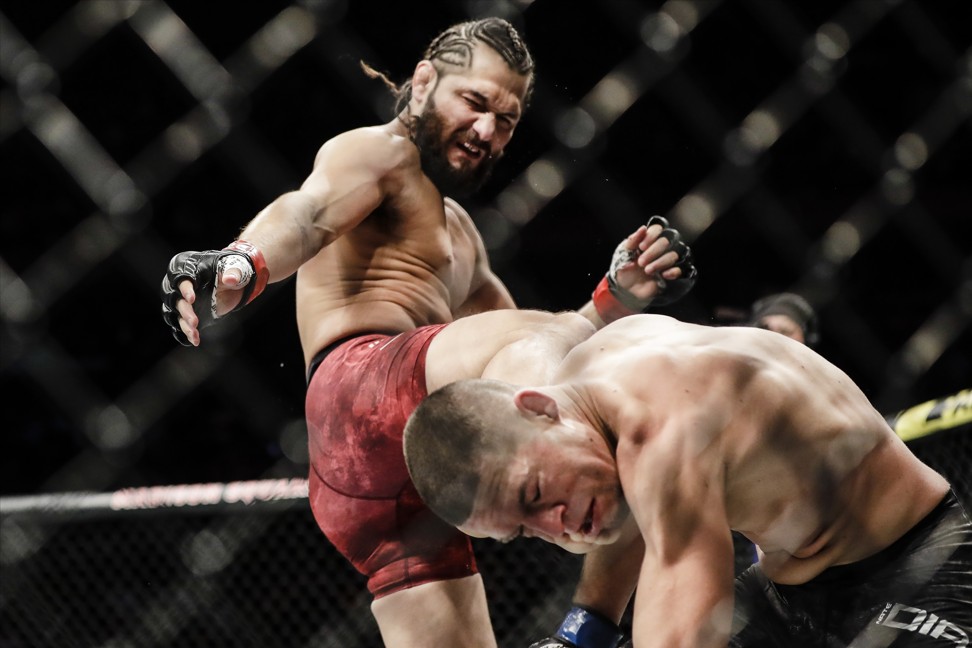 Jorge Masvidal kicks Nate Diaz during the first round at UFC 244. Photo: APShare:
But now Nick Diaz (professional record 26 wins, 9 losses) looks to be keen to step into the breach for his younger brother, having taken umbrage at some of Masvidal's remarks in the build-up to the fight.
"You want to talk about baptising my younger brother?" Nick said. "That's on you. Like, you don't talk about baptising my younger brother, so you're already in a f***** position if you fight with me.
"You don't f****** talk about baptising someone's younger brother. That's my baby brother. You don't talk like that to nobody."