(ThyBlackMan.com) Kanye West may be a lot of things, but dull is not one of them. His latest foray into gospel music inspired "Sunday Services" has some wondering if he has really lost his mind, or has found peace and salvation through these spiritual based gatherings.  The jury is still out, however. Whether you are a believer, or a skeptic like me, his spiritual journey has played out in front of the media in very interesting ways. West's wife and reality television star Kim Kardashian recently told an audience on the daytime talk show The View that her husband has "dedicated his life to Christ." Kanye has declared as much on his official website as well. However, confessing one's devotion and the actual practice are two totally different things.  Could West's new found faith be authentic, or is it just another money making opportunity?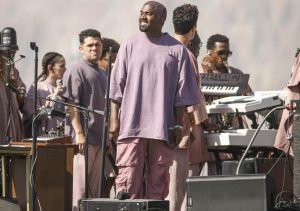 Some have said that West serves to fundamentally reinvent himself within the context of religion after a long history of courting salacious controversy (the Taylor Swift Grammy incident, his MAGA hat wearing, his theory on slavery was a choice, and recently crediting the Republican Party for ending slavery out of context.) West's Sunday Services are non-denominational as well as nontraditional, as his cousin Tony Williams explained back in January 2019 when these gathering first began. "The goal is to administer and communicate the message of love effectively. They are an aesthetic celebration of Black Christian music in all its various forms. " A typical service consist of a choir who segue from traditional songs of mercy and salvation to bolder reconfigurations of modern secular hits like Soul II Soul's R&B classics "Back to Life." The choir also dips into gospel spins on West own music catalogue.
Ben Roazen with Okayplayer has argued that the spectacle of it all plays into West's ongoing redemption tour that have become divisive and polarizing.  For example, during a recent show in Salt Lake City, Utah, West launched into a long winded criticism against those who have condemned his relationship with President Trump and the Republican Party. Others have say his antics are a self serving appropriation of Black faith traditions and these performances are nothing more than mere concerts. Critics have also expressed apprehension, and other rappers question his true motives. However, the rapper and father of four continues to lead these praise and worship services, whose location changes from week to week, and  often feature other famous  musicians such as: ASAP Rocky, Chance the Rapper, Kid Cudi, 070 Shakes, and Charlie Wilson among others.
Other attendees have included celebrities:  Babyface, Busy Phillips, Courtney Love, David Letterman, Diplo, DMX, , Fonzworth Bentley, Idris Alba, Orlando Bloom, Rick Rubin, Tyler, the Creator, and Verdin White from Earth Wind and Fire.  Some have also suggested these performances lean more towards a cult like worship service , and have compared them to the likes of Scientology. "It's got the trapping [of a cult]," argues Janja Lalich, a cult expert and a sociology professor at California State University. However, West appears to feel otherwise, "Hip hop is a religion to a certain extent, and rappers are the preachers, the music is the scriptures, you know? It's just like church, because you go to a concert, you raise your hands in the air, you sing songs, and you definitely pay some money. It's just like church."  One could argue that this statement was a short of omission on his monetary motives. His wife  appears to have echoed the same sentiment on an appearance on Jimmy Kimmel Live where she said, "There's no word. It's just music, and it's just a feeling."
Sharmira Ibrahim of the New York Times argues that these "Sunday Services" have lead to a reduction of the Black Christian tradition to just music in what has become a for-profit making endeavor. Worshipers pay concert ticket prices for a glimpse of a famous man and his choir, "as opposed to consuming a [traditional] spiritual service. Gospel is reduced to a commodity." Ibrahim further states that the reduction of the Black faith tradition to "just music" is precisely what has become a similar profit-making endeavor for some Black places of worship. However, hip hop artists dabbling into the gospel realm is nothing new. Artist like MC Hammer, Diddy, and DMX have done the same in the past. So, what the big deal one might ask? To be fair, West has progressively approached gospel inspired songs for the start.
On his debut album, The College Dropout," he released the track "Jesus Walks," and faith has continued to play an integral part in his music since 2013's Yeezus. the subsequent tour was heavily reliant on religious imagery. The Life of Pablo, West's 2016 self-professed "gospel album" elevated what appears to be his growing faith in matters of Christianity. (St. Paul the Apostle was one of the 12 disciples who knew Jesus, according to religious text, and the album is loosely based on this theory.) Therefore, it seems only fitting that West's music should follow the same religious path as he. A return to religion is to imply a want for forgiveness, and the cultish air of the services, some would argue, promotes that without reproach.
The Second Coming of Kanye sources:

Sharmira Ibrahim. "Kanye West and the Cult of Personality." 14. Oct. 2019. Web. The New York Times. 15. Oct. 2019

Briefly Team. "Kanye West to release 'Jesus is King' album after finding salvation." Briefly –South African News. 19. Sept. 2019. Web. 16. Oct. 2019

Ben Roazen. "Kanye Est's Sunday Service: A religious Experience or a Celebrity Cult?" 19 May. 2019. Okayplayer. Web. 16. Oct. 2019

Alex Galbraith. "Kanye West's Pastor Speaks on His Spirituality." 09. Oct. 2019. Complex magazine. Web. 18. Oct. 2019

Constance Grady. "Kanye West's turn toward spirituality, explained." 09. Oct. 2019. Vox. Web. 18. Oct. 2019
Staff Writer; Gustavus Betts